Converting Tub into Walk In Tub in Fairfield, Texas
Many members of the aging population are converting their standard tubs into walk-in bathtubs in Fairfield, Texas as a means of remaining independent and safe as they practice aging in place. Aging creates with so many different changes. Changes in your life and body. As we age, and we experience mobility changes, staying safe in our homes becomes a focus during daily routines.
Independent Home Products, LLC specializes in converting tubs to walk-in tubs in Fairfield to protect customers from potential dangers. The advantages of installing a walk-in tub outweigh the cost of installing a walk-in tub in Fairfield, as well as the cost of not addressing bathroom safety issues for an aging loved one. Give us a call so that we can help you develop a plan to keep you or a family member self-sufficient when it comes to your daily bathing routines and aging in place.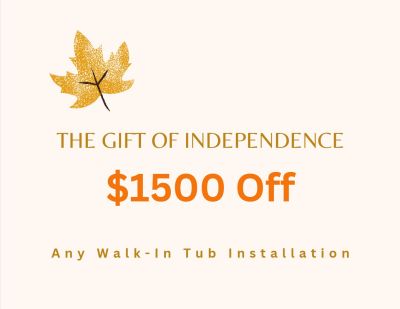 ---
Call Independent Home Products, LLC for a free quote:
---

Benefits of Fairfield's Walk-in Tubs
With a high percentage of slip and fall injuries that occur in the bathroom, Independent Home Products, LLC wants to install the safety precautions of your walk-in tub. Walk-in tubs provide independence for those with mobility concerns. Since 2007, Independent Home Products, LLC has been installing walk-in tubs in Fairfield's homes and retirement communities. We use our expertise to improve the bathroom safety of residents in Fairfield by installing walk-in tubs and showers
Accessible Bathing Options in Fairfield
It's our mission to install an efficient walk-in tub to make it easier for you to bathe in your home. We pride ourselves on being cost-friendly and reliable. Independent Home Products, LLC has been installing walk-in tubs all over Fairfield since 2007, making us the professionals you need! Let us help you achieve peace of mind in the midst of your health changes.
How We Convert Tubs in Fairfield
Independent Home Products, LLC takes thorough steps in understanding your stipulations. We start by:
Understanding your essential needs

Removing your current tub

Making sure the appropriate plumbing and adjustments are arranged

Going over the designs that work best for you

Discussing if you need any additional work done

Designing and manufacturing your tub according to your specifications at our NY factory

Installation of your new walk-in tub

Ensure you can utilize your new tub effectively

Installing any adaptions necessary

All situations are unique and have different requirements. Independent Home Products, LLC is ready to take action to keep you from being restricted. Let us show you we install the best walk-in tubs in Fairfield! Take the first step and call (903) 636-7878.
---
Call for FREE Converting Tub into Walk In Tub Quote
---
WHAT CUSTOMERS ARE SAYING:
5★★★★★ - "We're highly delighted with our walk-in tub. I'm 84 years of age. My wife is 83. We're both getting to the age when it's a bit difficult to step into things, so we had thought for some time having been attracted by advertisements seen on television, to get a walk-in tub. The dealer was absolutely superb. The guy who came initially was a very nice chap. And then, when it was the day for installation, the two gentlemen that came to install took the whole day. It was from eight o'clock in the morning till eight o'clock at night for them to get it sorted out. They were very pleasant gentlemen. We had no bad experience with regard to the installation or the use of the tub following the installation. My only problem with them is that you do not realize the capacity of the tub. So, our first experience was that our hot water tank could not cope with it. We had to increase the heat level because it's taking far more water than a normal bath, we had to make the water hotter in order for it to be satisfactory. Other than that, we are highly satisfied with the purchase. We were glad we did it." John in Fort Worth, TX"

Anonymous, Walk In Tubs in Fairfield, TX

2016-08-23

5★★★★★ - "We love our Independent Home tub. My husband and I both have issues because we're 85 and 86, and he has a terrible back. And so, we've been talking about getting more of these tubs. This young man called and said he was in our area making calls, and that they were putting a special out. He said, "I'm from the Dallas area, but I'm in Amarillo, and I would love to come and present this to you." I asked if he could be here at 10 o'clock in the morning which was a Saturday morning in December. He was here at 10 o'clock that Saturday morning. It was very unusual for anybody to make that kind of prompt call by phone especially in person.
He came in and we met with him, but we had to go to MD Anderson. My husband has cancer, and we were going down for a check-up. And so, we told him, "Nate, we cannot sign now because we don't know what we're gonna find out when we get to MD Anderson, and we must wait and see what we have going on." He said he was gonna be working the Amarillo area and that he would call us. We had to go down on Wednesday, see the doctor, had test run, do the doctor's thing on Thursday, and we started home Friday. I asked Nate what was the plan, and he said he'd call us at 4 o'clock Friday. We were driving through Fort Worth, Texas at 4 o'clock Friday, and I got a phone call from him. He stayed over to meet with us Saturday morning. He was here at 10 o'clock. He called at 4 o'clock. You don't find that in this world today from young people. And so, that made a great impression on us.
We went through it all. And we had looked at some others and we had tried to get local plumbers even from as far as Lubbock and Amarillo to come and give a look at where it had to go and look and see what could be done about it. We talked to the guy in New York. We talked to one in Des Moines that was head of the contractors. Then Christmas came and went. And so, we decided that we would do it after Christmas. They've contacted us, gave us a time that the contractors would be here, and they came a day and a half early. They called, and this is Shonda and Shasta.
Shasta's head of contractors. She called and said, "Could we come and look? We know this is gonna be an unusual job for us." They came out Sunday evening, and they were here when they told us they'd be here. They told us that they would be here at 9 o'clock Monday morning to start the work, and they had a plan. They were here at 9 o'clock every day that they worked for us because that's the time they chose to come. These two women did an awesome job.
We are in love with the whole thing so far. We enjoy the air bubbles and the water jets. We like the low shower. When we went back to the doctor for the first time after my husband had used it just a couple of times, his back was so much better that the doctor told us that it had probably moved some muscles off of the nerves that were giving him a lot of his problems. We're very satisfied."

Doreen, Walk In Tubs in Gilmer, TX

2020-10-26

5★★★★★ - "I had a liver transplant so it's hard for me to take a bath and have a shower. The sales rep from Independent Home came out and talked to me about everything and then told me what the payments would be. I was in Dallas at that time of the installation doing an evaluation for the liver transplant, but when I walked in at home everything was wonderful. I like that I have a choice between the shower and the bathtub. They told me not to use the bubble bath and it's an effort not to use it. They also left me with two little bottles that had aromatherapy in it, and I'd like to get some more of that."

Dena in College Station, TX

2016-08-23

5★★★★★ - "We had a different tub and my wife was having trouble getting in and out of it. We got Independent Home and we're enjoying it. It has water jets on it. The installation team was good and did everything they said they would. However, we have a little trouble with the drain on it. It doesn't open up real easy when it's full of water."

Robbie in Tyler, TX

2016-08-23

5★★★★★ - "A man from Independent Home called me on the telephone and he was nice. I asked him to give me a price, he did and I told him to put in the walk-in tub. He sent some men to install it, I paid them, and they left. They did a good job and answered every question I had. He said to turn the water on, flip the switch, sit in the tub, and don't open the door until it's all drained out."

Wayne in Ben Wheeler, TX

2016-08-23

5★★★★★ - "I like my Independent Home tub. After listening to what the salesman said, it sounded right for me because I can't walk good enough. I got the tub with the door in the front, a seat, and a balance bar where you can stand up and grab hold to if you need help. It's easy to shower and bathe in it. I didn't have to step way up high like in a regular tub. We didn't have any problem when we purchased the bathtub. We called them, made arrangements about the payments and got it going on. The installation people were quiet when they were doing their job, but they were nice guys. It didn't take them forever to put it in. I would recommend them because they were good."

Gloria in Waco, TX

2016-08-23

5★★★★★ - "We had gotten a price from another walk-in tub company a couple of years ago and it was way too high. We heard about Independent Home and I told their rep how much it was. She said they would do it for way less than that so I told them to come out and show it to me. The salesman was very helpful, and he explained everything in great detail. When the workers came, they got everything done. They had to come back out and do one thing for us that they didn't have time to do before, and everything went fine. I enjoy using the tub's massaging jets as it's very relaxing."

Diane in Killeen, TX

2016-08-23

5★★★★★ - "Independent Home's walk-in bath tub is great and I really like it. The salesman was very thorough. He spent an hour and a half and we talked about the price. He showed me a lot of things that would tell me what a quality product it was so I'm well pleased with it. It was the best deal I could get. My bathroom is so little that it had to be the style that replaces the shower and it worked out great. They did a really good job."

Wanda in Killeen, TX

2016-08-23

5★★★★★ - "An Independent Home dealer came out and showed their product to us. We were going with the pros and cons of each one. We're getting up in age and we wanted to be prepared. If we became incapacitated and having to be wheelchair-bound we wanted it to be accessible. We got the wheelchair accessible bathtub and we're enjoying it. It's relieving my husband's back. He gets out in the garden and then he gets into the tub. He is able to relax in using them. Additionally, the installers were a joy. They let us know exactly what they were doing and that there would be a lot of noise. We had a good rapport with them. We recommended Independent Home to our neighbor. She ordered and they have installed hers."

Carolyn in Killeen, TX

2016-08-23

5★★★★★ - "I got the biggest model Independent Home has because I'm pretty large myself. Their salesman was nice and very good. He sold me in one sight. The installation team was very nice as well and they are courteous men. I appreciate them."

Charles in Houston, TX

2016-08-23

5★★★★★ - "Purchasing the walk-in tub wasn't difficult. It took us three weeks because we were at doctor's appointments so we had missed quite a few calls, but once we got where we could sit down and talk to their guy and have everything explained, we decided to go with it. My husband recently had hip surgeries and it was thought that the tub would help massage him and give him his strength back, and now he's already feeling a bit of a difference. Independent Home had a great installation team. They told us it would take four hours and it did, they were done and out. The tub is great, but in filling it up it has to go to a certain level before one can start on the jets. But other than that, my husband and I enjoy it. I would recommend it."

Travis in Teague, TX

2016-08-23

5★★★★★ - "Our experience with Independent Home has been great. It was nothing but the best. They have the best price and their reps have been great. They were outstanding people, top of the line, very honest and hardworking. Their installation team was great too. They're very outstanding as well, very professional and concerned. They made sure they did it right and they didn't tear up our bathroom. They're very conscientious. In fact, my wife said we should have done it a year ago."

Dan in Dallas, TX

2016-08-23

5★★★★★ - "Independent Home had a couple of nice features in their walk-in tub and after talking with them and going over the price, we decided to go with them over other manufacturers. I was just in the market and they were giving me the right answers. The dealer who assisted me with my purchase was very nice, knowledgeable, answered all my questions, took all the measurements and looked over everything. Then we negotiated a good price. The crew that came to put it in was a two-man crew. They came in and they removed all the old stuff, rearranged everything, put the tub in and had it in at the end of the day, and everything cleaned up and hauled off. They're very nice and professional from start to finish. All in all, Independent Home has good customer relations and crew. We didn't have to redo anything and didn't have to go over anything twice. They are very customer-oriented and a professional group."

Don in McKinney, TX

2016-08-23

5★★★★★ - "Had a great experience with Independent Home. I couldn't ask for better people. The team was nice, friendly, professional and cleaned up after themselves. I liked the looks of the bathtub that we got from them, although we can't use it now because my hot water heater had given up."

John in Grapeland, TX

2016-08-23

5★★★★★ - "My mother had been wanting a walk-in bathtub for a long time. She already had someone come to the house which she was extremely unsatisfied with. He was so pushy and rude when he found out we were wanting to look around. He was very unhappy that we weren't gonna get it right at that second. Then I found Independent Home online and when we called them, the gentleman that she talked to was so nice and helpful, and everything went smoothly. The installation team was very good as well. The only problem that she had was that the heater wasn't connected, and so the air that it was blowing was cold. She was also having trouble with her hot water at the same time, and she had a hard time getting them back out to fix that. The hot water was not an issue of theirs; it was the heater in the tub itself that heats the air. But when they came, everything was wonderful, and she loves it. The tub's beneficial because she's getting so much out of it and this has just been great." Condy in Midlothian, TX"

Anonymous, Walk In Bathtub Installation

2016-08-23

5★★★★★ - "Independent Home had a salesman come out. We sat and talked for about 30 minutes and I decided that's the tub I wanted. It's one that would fit in my bathroom. The installation team was very good. They put it in, we turned it on and it's been working fine ever since. I like my bathtub and it's been real good. I've been using it every other day."

Anonymous, Walk In Tubs

2016-08-23

5★★★★★ - "A representative of Independent Home called and we were interested so they came. They were very thorough in explaining everything to us and they answered all of our questions. Then they gave us time to think about it. We had already had some thoughts that we needed it since we're both 82 years old and getting in and out of the bathtub is tricky. Our experience with their sales representative was pleasant or we never would've continued with it. The installation team also did a very good job. The tub looked very finished, and it looked like it had been that way forever. I was very impressed. In fact, last evening they called to see if everything was still okay and if we had any questions or any problems. And we hadn't had any problems. It was nice and I felt really good about that. I felt like if there was anything not upfront, that they would not call back like that." Wilene in El Paso, TX"

Anonymous, Walk In Bathtub Installation

2016-08-23

5★★★★★ - "My daughter was worried about me trying to get in and out of my tub so she called Jacuzzi and made an appointment for me. Jacuzzi came and it was going to be $17,000. I could not pay that and I said no. Then Independent Home called in. They came and gave a price where I could see my way of getting it. The sales representative was very nice and a real person. The installation team had trouble putting the tub in though. And it was 11 o'clock before they got out that night. So I was tired by the time they got ready to leave. And there was a piece of little tube that they were supposed to leave me, which they never left. I called one of the members of the team several times and he kept saying he's going to mail it but never did. So I called the home office and someone called me from there yesterday and was checking up and will get in touch with the installation guy. But I'm happy with the tub. I have been enjoying getting in it. I probably do the hydro therapy maybe a couple of times a week. That's the time I use the sit-down shower. It's easy to shampoo my hair in and it's nice to be able to take my bath like I always did." Molly in Conroe, TX"

Anonymous, Walk In Tub Prices

2016-08-23

5★★★★★ - "I've wanted to get an Independent Home tub. The next-door neighbors got one and I told them to send the guy over and they did. It's convenient because I got it very quickly and the purchasing process was very easy. The installation team came and put it in very fast and I really appreciate that. We bought a tub with a very wide door. My husband is handicapped and this model's easy to get him in. He has global anoxia and has a hard time standing. We have a handicap shower and it's been so great to sit him in there and know he's not gonna fall. I can stand right next to him, bathe him, and he enjoys it. He's having trouble with his knees and I had to soak it and having the tub made a big difference. The hot water just feels good and he doesn't notice it, but I noticed a difference in how he can walk and get around which was getting very difficult for him to do. The tub's very easy to clean and maintain and I like it. Everything went very well and we're enjoying it very much." Dorothy in Belton, TX"

Anonymous, Walk In Bathtub Installation

2016-08-23

5★★★★★ - "I am no longer worried about falling in my bathroom now that I have the safety walk in bathtub by Independent Home."

Frances

2015-04-24
---
Call for FREE Converting Tub into Walk In Tub Quote
---